Our traditional Drum Major and Section Leader Camps and Clinics focus
on multiple areas of student leadership within the marching band setting.
These areas include:

Leadership Development

Student leadership is the driving element behind flourishing music organizations. We focus on teaching specific leadership techniques that allow the students to exemplify appropriate behavior, communication skills and attitudes in all life situations.

While learning these fundamentals of successful leadership, students are also challenged to use the skills learned to create motivational techniques specific to the needs of their own program.

Teaching

and Peer Helping Skills

SLC focuses on developing a systematic approach to teaching. We challenge students to work in individual and group settings in order to demonstrate the ability to teach in varying environments.

Conducting: Beginner, Intermediate, Advanced Skills

Conducting technique is the most important skill that a drum major must possess. SLC teaches beginning, intermediate and advanced levels of conducting technique; focusing on developing clear and concise patterns with consistent tempo maintenance.

SLC uses a detailed marching style designed to develop teaching style, attention to detail, hand, eye and foot coordination, and focus skills.

Our challenging style teaches them how to identify and fix common posture issues and foot techniques within their own marching programs.

Leadership Camps

For Drum Majors and Section Leaders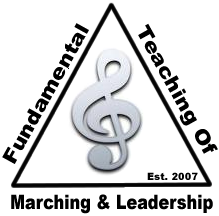 SLC is a leadership based camp that uses marching band as the vehicle for our educational process. Students from all areas of marching band are encouraged to participate in any of our camps. Our process will build confidence, encourage positive peer helping skills, engage teaching methods, and will train students in many areas of marching band development and leadership.


We encourage participation from:
Drum Majors
Percussion Captains
Veteran Campers (Advanced Camp)
College Marching/Leadership Preparation

New Marching Band Students
Freshmen Marchers
8th Grade Marching Band Preparation

Section Leaders
Guard Captains
All ALC Certified Students (Advanced Camp)
Aspiring Drum Corp Students

Aspiring Student Leaders
Anyone looking to improve their leadership, marching, or teaching skills