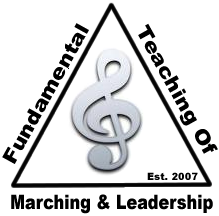 Advanced Leadership Challenge
"The ALC"


The ALC was a special opportunity offered at the Las Vegas Student Leadership Camp and the traditions surrounding it trace back to the most prestigious drum major and section leader camps of past and present.

The ALC was offered as a part of our curriculum and will allow students to test themselves against the highest standards of student leadership.

The ALC consisted of 3 challenges revolving around the core curriculum of the camp. The conducting, marching, and written exams will be administered throughout the course of the week. Students will have the chance to take the first conducting challenge, beginning on Wednesday afternoon, and will continue through each challenge as they pass.

Students who passed all 3 challenges earned the Advanced Leadership Challenge Certification, which included a representative pin and t-shirt along with their certificate of achievement. These may be worn as a symbol of their accomplishment in consecutive experiences with the Las Vegas Student Leadership Camp.

Students who completed the challenge also had the opportunity to apply and return to the camp as a future staff member.

Congratulations to the newest Advanced Leadership Challenge recipients.
We are very proud of all of your hard work and dedication!
Listed Below - Class of 2017 and previous classes.